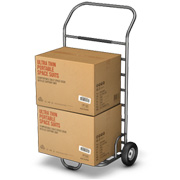 Our carriers
We are constantly looking for high quality reliable carriers that meet our requirements.
We carefully choose and monitor our carriers making sure they meet all our quality and safety requirements.
How to become our carrier:
Evaluation & Rating:
Insurance
Safety rating
Communication capabilities
Equipment quality
Years in Business
All our carriers:
We choose our carriers through Intermark's specially developed systems and we evaluate their performance on a regular basis.
Contact us
800 boulevard Saint-José
La Prairie QC
J5R 6W9, Canada
---
General freight division:
Ph: 450-444-1106
Fax: 450-444-0512
West coast division:
888-904-3333
Tel: 450-444-1006
Fax: 450-444-8071